Dr. Andrew DeGroat |
ND, IMT, CES, CYT200,
A.A.S. Medical Specialties, CCMA, HHA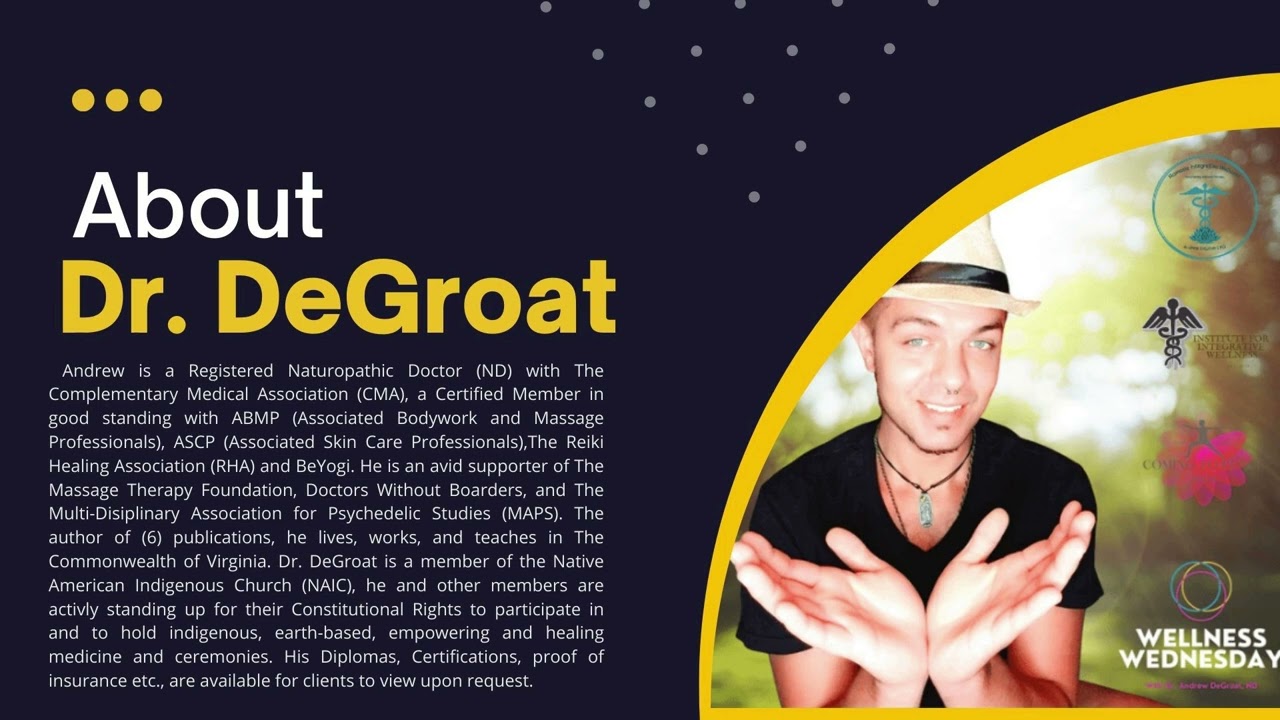 Andrew holds Diplomas and Certifications in Tradtional Naturopathy (as of 12/18/2020), an A.A.S. Medical Specialties (2017) Administrative Medical Assisting, Clinical Medical Assisting, Medical Billing and Coding, Massage Therapy, and Reflexology. He recieved his Reiki I, II, & III Master Teacher Certification in 2018. He is a Yoga Instuctor (TKYM certified teacher), Human Movement Specialists, and Cranialsacral Therapy I and II Practiticioner. He holds valid First Aid, CPR, AED, and BLS Certifications. He became Mental Health First Aid Certified in 2019. Holding acredited certifications in Oncology Massage, Scar Tissue Management, Home Health Care and much more.
He has had the privilege to learn from leading experts in the fields of Trauma Healing, Cranialsacral Therapy, Mind Body Healing, Massage Therapy, Neurobiology, Eastern Philosophy and many others. He is continually expanding his therapeutic skill-set and knowledge base via Seminars, Continuing Education Classes, Webinars, Workshops, Training Programs, and Live Summits.
These expert teachers include Peter A. Levin Ph.D, Judith Blackstone Ph.D, Ruth Warner, Whitney Lowe, Marjorie Brooke, Tom Myers, Isa Gucciardi Ph.D, Irene Lyon, Rick Gold, Meredith Stevens, Bessel Van Der kolk M.D., Alanna Kaivalya Ph.D, Sandra Ingerman, Uwe Bleeching Ph.D, Lisa Upledger D.C., Don Cohan D.C., and many more.
Andrew is a Registered Naturopathic Doctor (ND) with The Complementary Medical Association (CMA), a Certified Member in good standing with ABMP (Associated Bodywork and Massage Professionals), ASCP (Associated Skin Care Professionals),The Reiki Healing Association (RHA) and BeYogi. He is an avid supporter of The Massage Therapy Foundation, Doctors Without Boarders, and The Multi-Disiplinary Association for Psychedelic Studies (MAPS). The author of (6) publications, he lives, works, and teaches in The Commonwealth of Virginia. Dr. DeGroat is a member of the Native American Indigenous Church (NAIC), he and other members are activly standing up for their Constitutional Rights to participate in and to hold indigenous, earth-based, empowering and healing medicine and ceremonies. His Diplomas, Certifications, proof of insurance etc., are available for clients to view upon request.
"My ultimate career goal as an Alternative Health Care Professional is to become a NCBTMB Approved Continuing Education Provider and eventually a Board Certified Osteopathic Physician.
I would like to have the ability to work with my clients in most all aspects of their physical, mental, and spiritual health through my mobile massage and wellness practice. It is through my profession and my practice I am able to hold healing space for others, build community, earn a living, and find purpose. I am truly grateful to all of my teachers, students, and clients for allowing me the opportunity to do what I love. I am committed to learn, teach, work, and study to the best of my ability until my vision becomes reality. I invite you all to join me." -
Dr. Andrew DeGroat |
ND, IMT, CES, CYT200,
A.A.S. Medical Specialties, CCMA, HHA
Owner|Namaste Integrative Wellness LLC|Coming To Peace Yoga
What Andrew's Clients Are Saying...